Article
Doge's Palace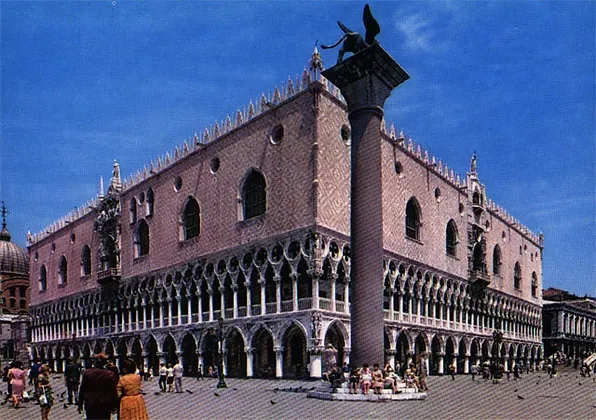 Building a city on next to no land available is quite a challenge but Venetians must have been inspired by a Scandinavian proverb: "The north wind made the Vikings!". Venice reinvented and reimagined itself as a living organism, its circulatory system running through the main canals, its vitals hidden in the extremely narrow back lanes (most structures were built literally next to each other because every bit of land had to be accounted for and taken advantage of), its lungs resting on some of the most picturesque islands (such as Burano, Murano and Torcello). Venice's living heart is beating on St. Mark square that, among many other attractions, turned the city into a tourist sanctuary, and tourists from all over the world - into Venice's lifeblood.
Venice is full of vitality and...paradoxes, and the most obvious paradox is that a near landless city has become renowned for its architecture (of all things!). While St. Mark Cathedral, located on its namesake square, is quite famous and impressive, it's the Doge's Palace that has through centuries remained one of the most riveting landmarks in Italy, if not the whole Europe. So much so that it became synonymous with a unique architectural style named after the city itself - Venetian Gothic. It would take an expert to talk about pointed arches, light buttresses and similar professional characteristics of the style. A mere layman, I have to restrict myself to mentioning the obtained from local quarries pink and white marble that somehow renders the building a sense of unrivalled elegance and airiness, almost playfulness - and that's another paradox because the rule of Doges was anything but playful. Elected representatives (formally, Venice was a republic), they usually ruled with a rod of iron, and many a citizen, nobles included, ended their life in an underground cell or on the chopping block. That brings me to another twist in the tale leading to yet another Venetian feature (this time, an easily anticipated one) - namely, bridges. There are hundreds of them in the city - some being real masterpieces - but the most ominous one is the so-called Bridge of Sighs leading from the interrogation room in the Doge's Palace to a prison cell...
​The discrepancy between buildings' appearance and their essence isn't limited to the Doge's Palace. Many former churches, scattered along the Grand Canal, look like true seats of medieval Inquisition - painted brown and copper, they are heavyset and gloomy, their windows narrow enough to serve as firing ports. Come inside, and there are museums and art galleries featuring some of the most famous paintings in the world! The last but not least item on the "deceptive appearances" menu is called "private palaces". While hugging the waterfront, they are so close to the Grand Canal that they create a perfect illusion of floating above its waters...