Article
The Gaelic Soul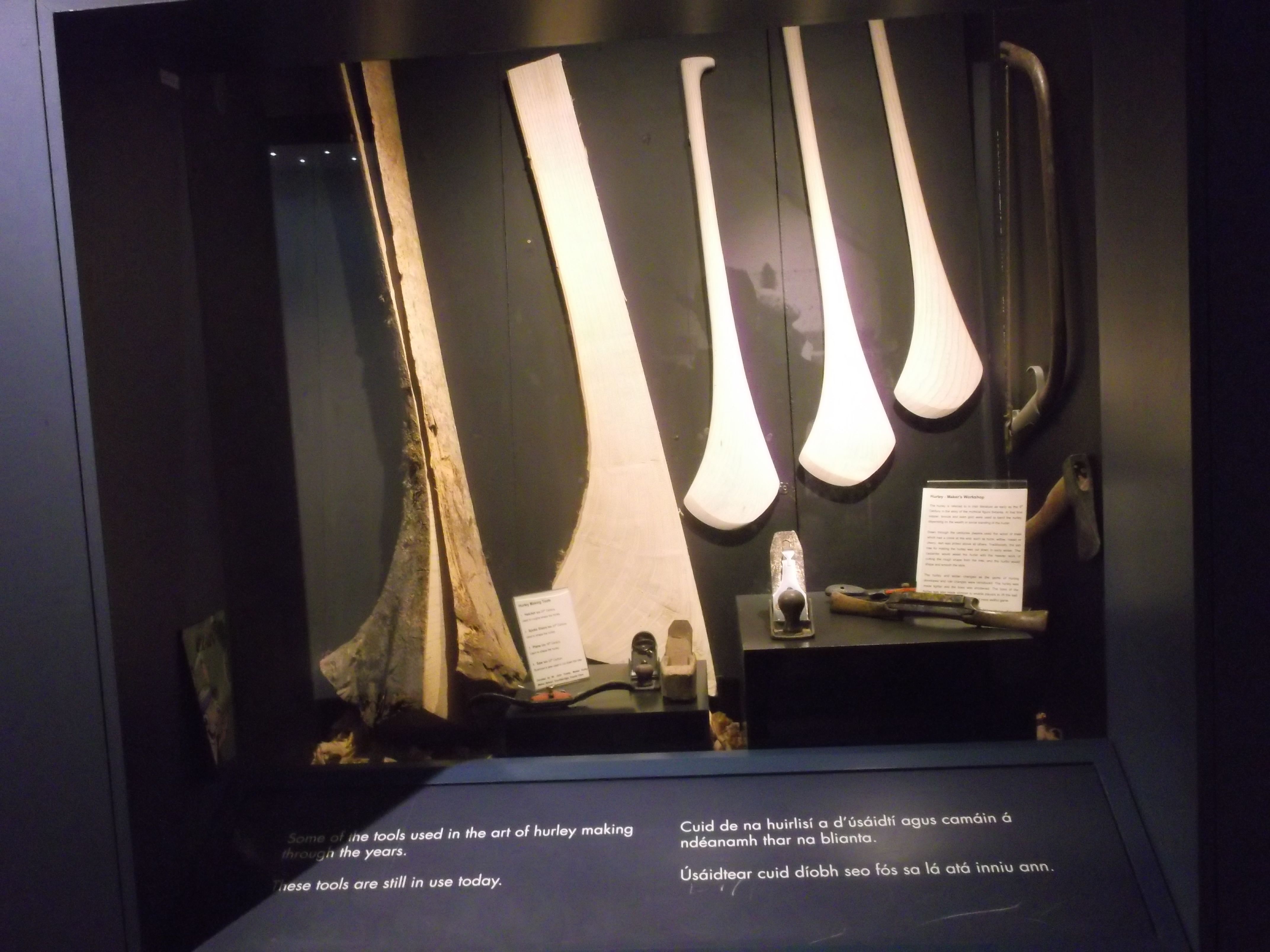 Most nations are passionate about sports. Many countries are quite good at a number of different sports. Some of those or other countries are dominant at a particular sport - and almost all such countries have a special museum devoted to that sport. The Hockey Hall of Fame in Toronto, The Naismith Memorial Basketball Hall of Fame in Springfield, Massachusetts, The Ski Museum in Holmenkollen, The All Black Experience in Auckland (there is another Rugby Museum in Palmerston North - the sport is sooo big in New Zealand that one such museum is simply not enough!)… Those are probably the most iconic of such museums where people come to learn about the history of the sport, and celebrate their athletes having over many years overcome fierce opposition from all over the world, and established themselves as the best of the best in their chosen sport.
The GAA Museum in Dublin is both rather similar to and strikingly different from its above-mentioned counterparts. GAA stands for "Gaelic Athletic Association", and the first word is by far the most important part of that title. It's the traditional Gaelic sports that museum visitors learn about - and they do celebrate incredible Irish athletes who are undoubtedly the creme de la creme of those sports. However, there is one missing component - the "fierce opposition from all over the world".
There are essentially four Gaelic sports - hurling, Gaelic football, rounders and, surprisingly, handball (which has nothing to do with the Olympic sport of the same name). The female version of the first two of those has its own name (camogie and ladies' football) but the sports themselves are fully identical. Those two sports also happen to be significantly more popular than the other two - and none of the four existed outside of Ireland about 200 years ago. Then waves of Irish emigration introduced them to such overseas countries as Canada and the USA, Australia and New Zealand, and even Argentina - yet, the games were mostly played by immigrants themselves. Over time some locals joined in, clubs appeared, and their number grew. However, even today an absolute majority of players involved in any Gaelic sports have Irish roots. Since there are no world championships (or any real international competitions, for that matter), the biggest hurling/ Gaelic football tournament on Earth is the All-Irish Championships where players represent their counties.
The Championships are regular and well-structured. 32 teams from the 4 Irish provinces participate in their respective provincial championships for about 80% of the season. The winners of that stage qualify for the semifinals that determine the finalists in all four categories (hurling, camogie, Gaelic football, ladies' football). The finals are played throughout the month of September - one on every Sunday - and every Irish knows exactly what (s)he is going to do on those four Sundays. The choice is pretty limited: the lucky 82,000 fill the stands of Croke Park, the third biggest stadium in Europe, while the remaining unfortunate 5 millions or so are glued to their TVs for a number of hours - and for a good reason as the skill set required by the games (in particular, hurling) ensures that the All-Irish Finals will feature the finest and most skillful athletes on Earth.
A picture is worth a thousand words (and a Youtube video might be worth this whole blog!) - so, my description of hurling will be very brief: it's a unique combination of baseball, rugby and field hockey, and it's the most athletic, passionate and dangerous contact sport one can ever imagine. It's not for nothing that hurling is known as "the warriors' sport". One last fact I should mention is that it's played by amateur warriors
One more time, to make sure that this mind-boggling piece of information is fully appreciated: the finest athletes on Earth whose talent fills to capacity the third largest stadium in Europe - and rivets millions to their screens - and who could've easily chosen any sport and excelled at it so much as to become multimillionaires well before the end of their careers - are amateurs! They aren't paid a Eurocent for their tremendous achievements, and neither are most coaches, referees, and even stewards enabling the games to go ahead. That means that all those athletes have to work (to pay their bills) AND practice regularly (to maintain their level) - and that's what they do for years and years. They go to work every day, practice before and/or after work 5-6 times a week, and volunteer in the sports community every now and then. Why all that? The best answer might be provided by the picture below.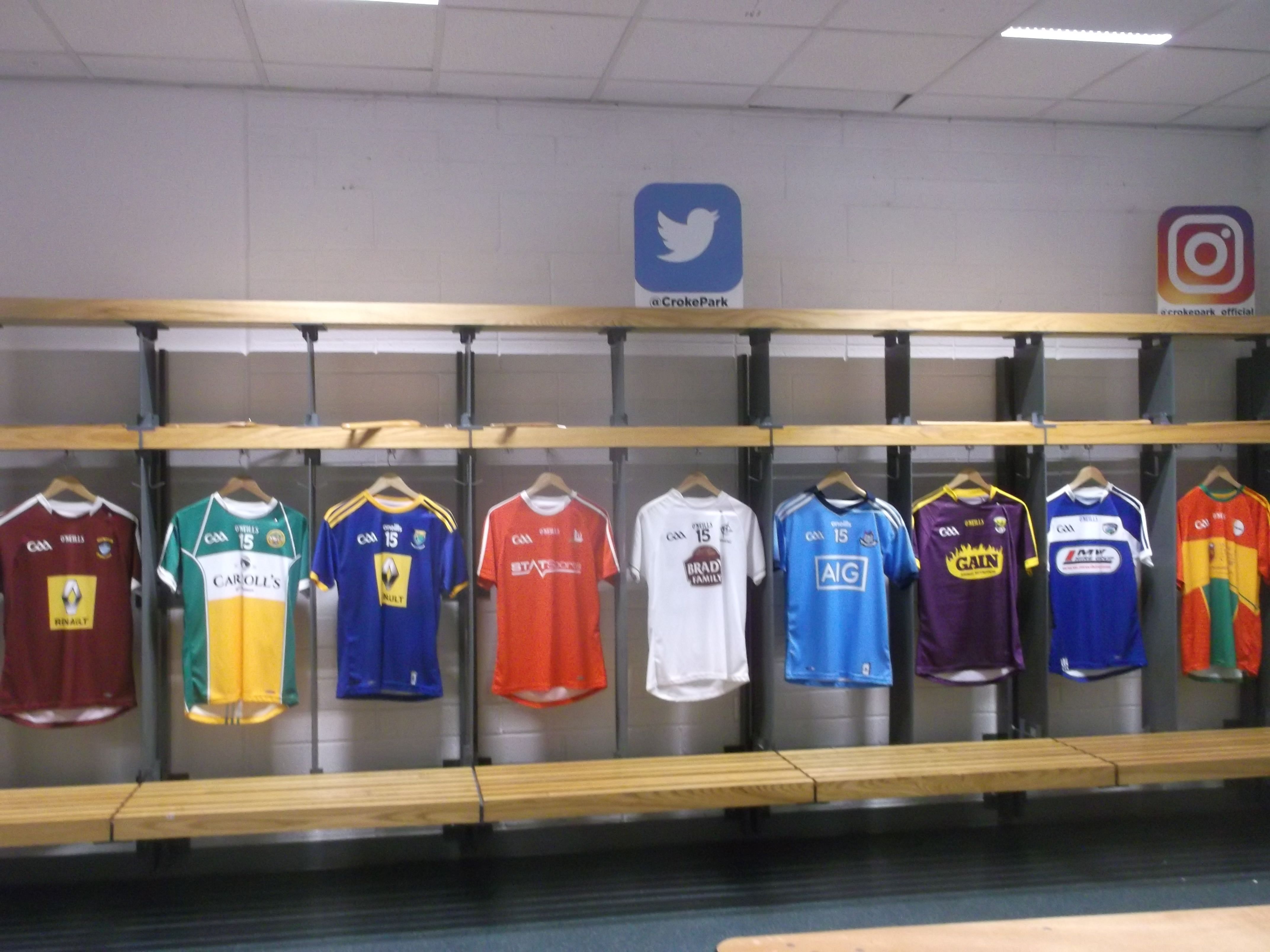 Those are counties team jerseys, whose design and characteristic colours haven't changed for generations of players - and no player, who put on one of those jerseys even once, would ever trade it for any other jersey. In other words, no hurler/Gaelic footballer has ever played for a county (s)he wasn't born in - at least, according to our guide whose grandfather had participated in several All-Irish finals (the guide himself also played the sport but at a lower level, so he decided to serve his sporting community by spreading knowledge and promoting Gaelic sports and values they represent). This devotion to the concept of "county" is so intense that one might even suspect some local nationalism…but for one striking fact: anthems are played twice before every All-Irish final. Tempting as might be to think that every Irish county has its own anthem, it's not the case. It was Irish national anthem that filled the air on both occasions, and this is highly symbolic: even if each team is playing against an Irish opposition, both are still playing for Ireland as well as for their native county. By simply being there and playing those unique, distinctly Irish/Gaelic games, both teams and every player/referee/coach as well as the spectators promote their Irishness and celebrate the very existence of their games rather than just their athletic prowess.