Article
Silver Nose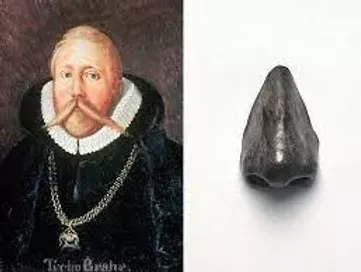 Most exhibits of the Copenhagen Odditorium are...well, oddities - that is, objects of little to no practical significance. There is, however, at least one notable exception - a nose. To be precise, a silver nose crafted to successfully replace its maker's natural one that was sliced off during a duel. A fully functional 16th century prosthesis can be deemed as nothing short of remarkable in its own right but the person of its owner/creator turns that silver nose into a true one off. The dueling trouble-seeker was none other than a certain Tycho Brahe.
A Dane, he was born in the region of Scania that became Sweden soon after his death. A famous astronomer, he conceived an idea of planetarium almost two centuries before the first actual planetarium was built in the Netherlands in 1781. Brahe insisted on and personally contributed to building four observatories, among them one in Upsala, Sweden - arguably, the most famous observatory in the world. He served several kings, including Christian IV - then a very young monarch, eager to learn, and in need of great mentors. Who knows, just how much of its prosperity the kingdom of Denmark owed to the fact that those two outstanding personalities happened to cross paths!
A giant of science - and yet, as the above-mentioned duel proves, Brahe was no bluestocking, whatever the colour of his actual stockings might have been! A vessel where a great mind, a great spirit, and multiple skills happily co-existed and probably boosted each other, Tycho Brahe was a true Renaissance man who left his mark on many areas that eventually defined the place of his native Denmark in the Renaissance world. In a twist of irony, he left his mark on the world of oddities, too.