Article
Marine Einsteins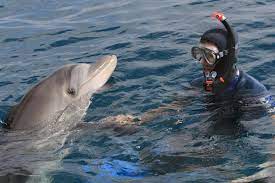 For millennia, humans have had a complex relationships with other living beings collectively known as "animals". They domesticated some for the sake of convenience, and they hunted others - to give my species the benefit of the doubt, I will presume that was mostly done out of necessity. When necessity became less urgent, curiosity came to the fore - and ever since human beings have had an urge to see animals not just in houses, backyards and zoos but also in their natural habitat. Bird and whale-watching tours, photo safaris and such are by now many people's favourite pastimes but…those activities are somewhat passive for those who prefer an even more immediate, first hand experiences. They can't fly with birds, run with lions or swim with whales - too dangerous! - but they are able to come and stay close to dolphins, arguably, the most exciting species once called "Einsteins of the animal world"
"Come and stay close" might be a little bit of an exaggeration as the experience isn't guaranteed, to start with - and it's usually pretty brief even if successful. To give it a try, one usually needs to go on a rowing/kayaking tour (in many areas dolphins are protected, and access to their habitat is restricted) or join a group and hire a licensed instructor. Akaroa, first and foremost renowned for its Giant's House, covers the former option, while those visiting Eilat can choose to proceed straight from camels to dolphins.
An early morning of a warm, drizzling day, occasional water birds showing up, infrequent splashes as some marine denizen pops up to ascertain there is no immediate danger – and finally the main prize of the tour: dolphins. The encounter, if there is one, is rather brief – and more often than not one would be able to glimpse but a fin or an arched back as they disappear under water. However, strange as it might seem, simply knowing that there is a dolphin literally within touching distance (just too quick to be touched!) fills one with a sense of tranquility that is quite enough to leave the boat with a contented smile on their face.
Israeli dolphins are more used to people, and they don't mind doing them an occasional favour by swimming by and wagging their fin. Still, one has to be lucky to come to the Dolphin Reef on a right day at a right time when at least some dolphins are relaxed and in a good mood. More often than not "swimming with" would turn into "watching the dolphins darting by" - not dissimilar to the above-mentioned Akaroa experience. Yet, people keep coming and trying, excited about the very possibility to see those wonderful dancers whose spectacular show is choreographed by Nature itself.
P.S. My forthcoming trip to Ireland will most likely allow this blog to go on a short vacation. If all goes to plan, the next entry should appear on October, 22